Going to college in Chicago relegated much of my drinking to the seemingly endless array of bars throughout the city.
4 years came and went without being involved in a single bar fight.
1 week in Bangkok and I walked right into one…sort of.
The first Muay Thai fight I witnessed was not in a gym or stadium, but in a bar.
Go figure.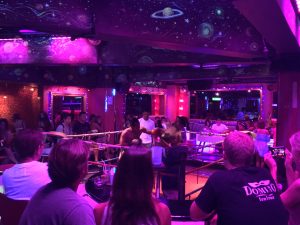 After a night out in the marketplace full of novelties & knockoffs, I found myself inside a bar with a ring in the middle. My drink arrived as the fighters began their ceremonial dance known as the "wai kru" (I plan on writing up a full piece on the aspects of Muay Thai that I will be learning throughout my stay). Despite the novelty of the fight being held at a bar, the symbolic rituals and nature of Muay Thai were not glossed over. This was as real as it could get.
The two began to fight and they weren't messing around. I could feel each kick snapping at each other's guard and punches reverberated throughout the small compact bar. A rather raucous crowd brought to silence cracked only by the fighters and their shouts of battle.
It was as tremendous as bar entertainment as you could imagine, but sadly reality kicked in just as hard as the knockout finish that followed.
The fight ended and the two warriors that just put their lives on the line began circling the bar in search of donations. Not a knock on the guys, every man should earn his keep and hustle till the break of dawn, but to see a performance like that with such a rich cultural heritage and respect nationwide be summed up to $3 and $5 tips was a sobering sight to a not-so-sober Jack Crowe.
There's a much more spiritual and cultural importance that goes into this discipline, but I'll look more into that later and finish my whiskey.